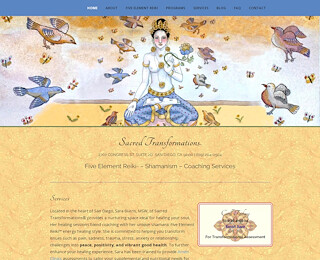 It is thought that we are alive because a life force that is flowing through our bodies. Life force flows within the physical body though pathways that are known as chakras, meridians and nadis. This life force also flows around us in a field of energy called the aura. It is also believed that this life force nourishes and feeds the organs and cells of the body, supporting and sustaining them in performing their vital functions. When this flow of life force is disrupted, it causes a loss of function in one or more of the organs, cells and tissues of the physical body, and this total scenario is known as the pathway that leads to the benefits of Reiki healing. Sacred Transformations offers the conversion and total metamorphosis of Reiki healing in San Diego CA, that can literally enhance your quality of life.
Sacred Transformations is known as the number one rated healing and spiritual center that offers Reiki healing in San Diego CA and throughout the entire area of the state, with healing sessions that are performed by our professional and experienced practitioner that will assist you with the knowledge and understanding of this spiritual healing process. By transforming negative feelings such as anxiety, stress and depression in to a more positive state, this can lead to the feeling of well being, positivity and inner peace, you will be able to look at the world with a new and fresh insight that will change your direction and your objectives within your lifestyle. We can also guide you with adjusting your nutritional and supplemental needs that can allow for optimal brain health and function.
Reiki heals by flowing and passing through the affected parts of the energy field and charging them with positive energy. It raises the vibrations level of the energy field in, and around the physical body where the negative thoughts and feelings are attached and imbedded. This causes the negative energy to break apart and fall away from your body and your mind. In so doing this, Reiki clears, heals and strengthens the energy pathways, there by allowing the life force to flow in a healthy and natural way. The life force is responsive to our thoughts and feelings and it becomes disrupted when we accept negative thoughts or feelings about ourselves, and these negative thoughts and feelings attach themselves to the energy field and cause a disruption in the flow of life force.
If you would like some additional information on Reiki healing in San Diego Ca, to allow a more positive approach to your life and the world around you, Sacred Transformations would like to invite you to visit our web site at centerforsacredtransformations.org, to learn more about the different types of healing sessions and workshops that we offer. On our home page, you can sign up for your free twenty minute transformational assessment, and also to receive our news letters and special promotions. You can also call us at 619.204.0504 for any further information or questions that you may have.

Reiki healing san diego ca