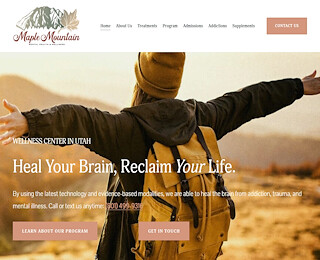 Are you struggling with bipolar disorder and looking treatment in Utah? Maple Mountain Recovery can help you. We offer treatment that enables patients to identify, treat, and manage their mental health condition. Our bipolar treatment centers in Utah provides treatment programs for both bipolar disorder and substance abuse. We do more than treating substance abuse; we also offer a treatment plan that effectively manages bipolar disorder. Contact on the phone at (801) 499 9316 to get you on the road to recovery.
What is Bipolar Disorder?
Bipolar disorder is an illness characterized by extreme mood swings such as anger, euphoria, rage, or irritability that go from high to low and back to high. When the person with bipolar disorder is in a high phase, this is known as mania or a manic episode, while the low phase is called depression, which is the opposite of mania. 
High phase bipolar disorder is characterized by extreme happiness and confidence and a flurry of unproductive "busywork" activity. In low-phase bipolar disorder, the affected person may lose confidence, feel sad,  overeat, lose the urge to do anything, and sleep all the time. Occasionally, someone who has bipolar disorder may feel so depressed and manic at the same time. Other symptoms of bipolar disorder include:
Unrealistic beliefs
Difficulty with memory
Quick thoughts and speech
Participating in risky behaviors
An impaired judgment that may lead to impulsive behaviors or being more active
Very little energy, which leads to lower engagement in activities 
Suicidal thoughts, plans, intent, or attempts
However, it is essential to note these symptoms because substance abuse can make bipolar symptoms worse. 
Treatment For Bipolar Disorder 
The best way to get care for your situation is to visit a bipolar disorder treatment center. You may need to go through a detox program to get clean if you are addicted to drugs or alcohol. Feel free to visit our rehab center to take a tour of our rehab facilities and take a closer look at our treatment options. 
We offer many programs designed to help you manage bipolar disorder signs and achieve sobriety. Our team will provide a full assessment of your mental health condition and addiction, which gives us a clearer picture of how to proceed. 
At Maple Mountain Recovery, we follow a structured treatment approach for bipolar disorder. Our model includes both holistic and evidence-based therapies, as well as dual diagnosis treatment. With the right treatment, you can end your struggle with bipolar disorder while also learning the necessary skills to cope with your challenges.
Schedule a Consultation with Maple Mountain Recovery 
If you or someone you loved has bipolar disorder, you want to feel better as quickly as possible. You do not wish to wait to get treatment. Maple Mountain Recovery is one of the best choices for your bipolar treatment program in Utah. Our staffs are eager about helping people get the help they need for substance abuse and mental illness. Call us at (801) 499 9316 to schedule a consultation.
Bipolar Treatment Centers Utah